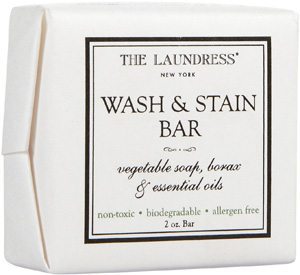 If, like me, you wash and iron your own shirts and if, like me, most of those shirts are white, you probably get ring around the collar and the inside of the cuffs. The temptation is to use bleach or some other chemically corrosive agent you found in the laundry aisle at Rite Aid. Don't.
The vixens over at The Laundress have created the Wash & Stain Bar. It was originally developed for taking care of tough stains on sweaters and other delicates, but it is also brilliant for getting out those stains inside our shirt collars and cuffs. I've been using it for months, and my collars and cuffs have never looked better and whiter.
Non-toxic, biodegradable and allergen-free, these small airplane-friendly bars can also be used inside of your drawers, your closet or your luggage for extra freshness. (The smell friggin' amazing. Sage, I think.)
The nice bit? They're $6.