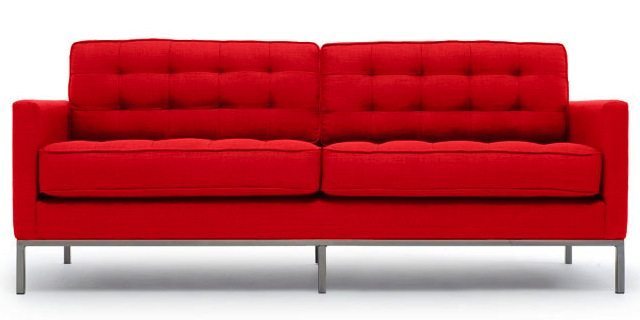 For years, I tried to cheat reality with a tragic series of inexpensive and truly cheap sofas, sofa beds and futons, adding to the growing pile of trash furniture that graces Manhattan's sidewalks on moving days. There comes a time in a man's life when one must invest in a real, grown-up sofa for big boys. A real one cannot be had for less than $1,000, which might be a lot for some… but that's the deal.
After extensive searching, I settled on this gem last year from Thrive Furniture: the Sullivan Loveseat. This beauty was inspired by the iconic settee designed by Florence Knoll in 1954, which retails new starting at around $7,000.00. The Sullivan is built with old-school manufacturing using kiln dried sustainable hardwoods stapled and doweled, and made with dual sectional cushions and blind button tufting. Its price tag: $1,199.00.
Like all of the gorgeous mid-century inspired furniture from Thrive, the Sullivan Loveseat is made in the Thrive factory in Los Angeles, U.S.A., and comes with a 365 day return policy, free shipping and no tax. It's a keeper.
It's available in 20 different fabrics and in leather. Mine is "Atomic Red" (above).
Dimensions
Overall: 31″h x 78″w x 32″d
Seat height: 18″
Arm height: 24.5″
There is also a full-sized sofa version available, which is 90″ wide.