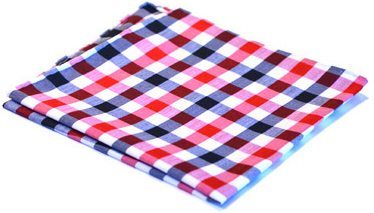 Why fit in when you can stand out? A simple little accent like a pocket square is one way to do it. A white pocket square makes a big difference, whether "squared" into your jacket's breast pocket a la Don Draper, or stuffed into the pocket with the four corners jumping out in a flourish. But if you're looking for an extra handsome pop of color, Maxton Men has something for you.
Among their exquisitely curated collection of men's accessories is a nice selection of pocket squares. My personal favorites are included here: red & black gingham, purple & black gingham, orange with sky blue dots and sky blue with white dots. There are also a couple of reversible plaid ones as well as plain white ones, which every man should have.
The price tag for many great-looking pocket squares from big name labels can transcend the ridiculous. These gorgeous babies from Maxton Men will run you a mere $15 each.