Two years ago, Dollar Shave Club shattered the overpriced shaving model by offering fabulous inexpensive razors and later introducing the wonderful Dr. Carver's Shave Butter. They then brought us those hilarious and effective butt wipes called One-Wipe Charlies last summer. After starting with our face and moving on to our ass, Dollar Shave Club is back to our face like a dauntless lover, expanding the line with a moisturizer.
Today, Dollar Shave Club is introducing Dr. Carver's Magnanimous Post Shave, a daily all-in-one moisturizer. The non-sticky, non-greasy formula is weightless on the skin, packing antioxidants to improve texture and fight aging. Not tested on animals, its notable ingredients include Golden Barley, Prickly Pear Cactus, Sodium Hyaluronate, Aloe Leaf Juice, Oat Extract and Vitamins A, C, and E. It also seems to be fragrance-free, so it won't interfere with a couple spritzes of Stetson Cologne.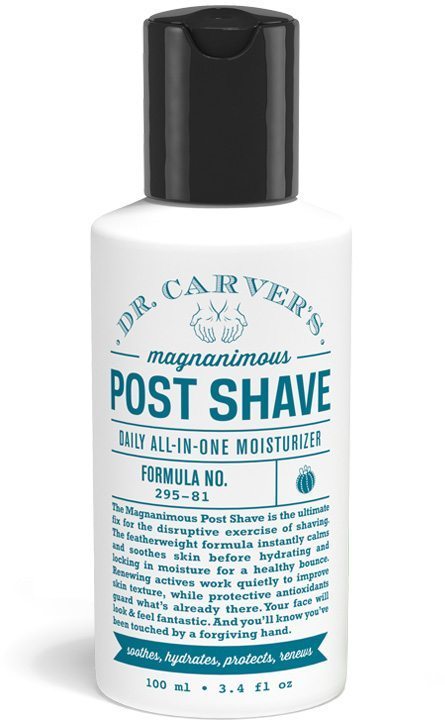 The 3.4 oz travel-friendly bottle will run you a cool $9 (S&H included).
On their successful mission to takeover the Bathroom Experience by introducing effective yet unaffected grooming products, Dollar Shave Club has so far made sure we can affordably maintain a smooth, supple face and a fresh taint. One wonders what's next…