It's no news that stars in Hollywood command a bigger paycheck than their Broadway counterparts. Yet with all the access and resources that come with the money (stylists, designers, etc.), many celebrities still manage to screw it up on the red carpet, confirming more non-news: money can't buy taste, refinement or style.
Last year, I wrote a piece on what I'd wear to the Tony Awards. It's not a look that will make you stand out like Alan Cumming, whose style is a well-earned signature that should not be attempted by amateurs. No. This is about nailing it with respect for time-tested black tie. There is a reason George Clooney, Daniel Craig or anyone dressed by Giorgio Armani or Tom Ford make the best-dressed list among all the other handsome movie stars: they don't f%k with the constraints of solid, well-tailored, bulletproof black tie. And neither should you. (Unless, of course, you are Alan Cumming, the legendary Patrick McDonald or someone determined to be known as the male, red-carpet equivalent of Cher.)
While my suggestions from my original piece remain mostly intact, I have made some tweaks. Here's the rundown:
The Tux
Keep it simple. The Essential Dinner Jacket Tuxedo from Indochino (www.indochino.com) is not just some generic tuxedo off the rack. It's a black, medium-weight, all-season Super 120s wool/silk blend (97% wool, 3% silk) that will take care of you for life. And since it's Indochino, it's a custom, made-to-measure suit built to fit you and only you.
As with all custom suits from Indochino, you have some customization options with the jacket and trousers. For the jacket, go with a peak or shawl collar (NOT a notch lapel, which is for regular suits and jackets only), one button in the front, functional sleeve buttons, single or double vent in the back (though with tuxedos, you can go with no vents) and no pocket flaps. Double-breasted is also an option here, but only for taller men with a leaner build. You can also choose your bemberg lining and your custom monogram. For the trousers, go with no pleats (flat-front), no cuffs and no belt loops. Side tabs are a nice option here.
If you're not comfortable self-measuring, have a custom tailor help you for $20 or so. (If you're in NYC, I can help you.) Since Indochino's turnaround is between four and five weeks, the time to order your custom tux is now, especially if any tailoring adjustments are necessary when the tux arrives. And if any tailoring is required, Indochino will pick up the tab for up to $75.
The best part is the price. $379. Tax is included and shipping is free.
The Shirt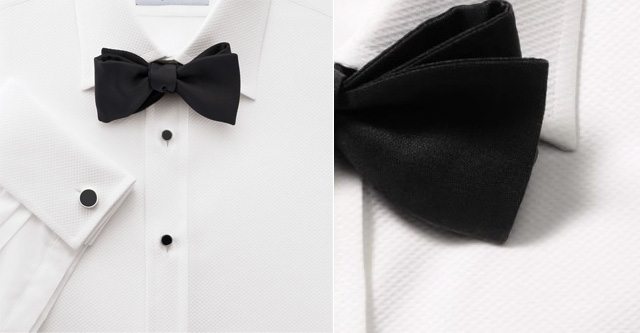 Please do not wear a wing-collar shirt. They are for morning suits, tails, magicians, poker dealers and Chippendales dancers. Wear a standard or classic spread collar (shown) with holes for studs and French cuffs. For the money, Charles Tyrwhitt makes my favorite tuxedo shirt: the Marcella bib front classic. It's 100% Egyptian cotton with a pique texture, available in classic or slim fits. They're $99 each, but Tyrwhitt will give you two for $160. Get them online (www.ctshirts.com) or at one of their Manhattan stores: Madison & 46th, 7th Ave. & 50th. or 6th Ave. & 45th.
The Bow Tie & Cummerbund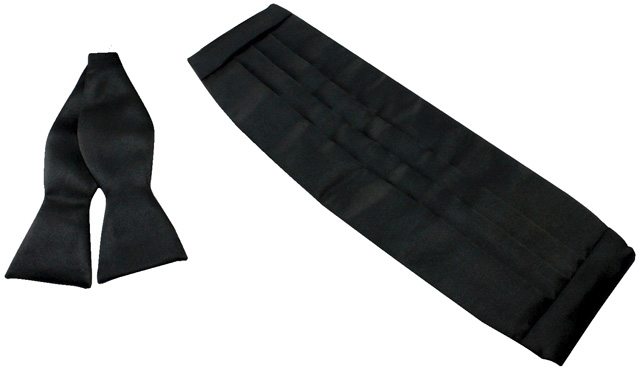 The bow tie is a given, yet the cummerbund seems to have fallen by the wayside. A rule for the tux is that we should not see any shirt below the jacket button. The cummerbund fixes that. This is, of course, not a concern with double-breasted dinner jackets.
My friends at Fine and Dandy sell perfect black bow ties and cummerbunds as a set. They're both made right here in NYC with 100% silk, with cotton backing on the cummerbund. The very reasonable $75 set is available on their website (www.fineanddandyshop.com) and at their sensational shop at 445 West 49th Street, between 9th and 10th Avenues in Hell's Kitchen.
On a style note: we must know how to tie our own bow tie. The pre-tied variety is a cop out. I actually taught myself with the help of a brilliant how-to video from The Hill Side. Check it out here.
On another style note: please don't wear a standard necktie, however black it may be. There is a growing perception that a standard necktie is appropriate for black tie. It isn't. It's a lazy man's cheat that has a funeral effect, making the wearer look like a well-dressed pallbearer. Black tie is an occasion with deliberate and celebratory apartness from regular suit and tie. Wear a bow tie and celebrate.
The Bling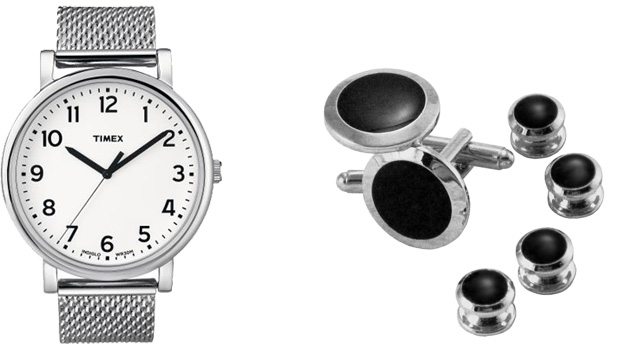 If you were lucky enough to inherit a badass formal set of studs and cufflinks from your granddad, you're all set. Otherwise you'll need to invest in a set of your own. Thanks to Matt and Enrique at Fine and Dandy, you can snag a smart and handsome black and silver set for a very cool $49, available from their website (www.fineanddandyshop.com) or at their Hell's kitchen shop.
Since so many of us tell time with our smartphones nowadays, a watch is totally optional. But I am a huge fan of a simple and handsome (and functional) wristwatch. If you're in need, I'm a sucker for a Timex. My favorite for formalwear is the silver-tone, stainless steel Timex Originals Classic Round with a black or white face (shown). It takes a licking and keeps on ticking for a cool $75.
The Shoes
Unless you have a busy black tie schedule, formal shoes (called pumps) won't get a ton of wear. But one should invest in a smart, handsome, timeless pair that are specially reserved for formal occasions only. Whatever they are, they should be simple and nondescript patent leather, without any perforations or designs on them. Unfortunately, your favorite wingtips or monk straps, however glossy their shine, are not appropriate.
SuitSupply sells one of the handsomest pairs of formal shoes I've ever seen. Called the "Tuxedo Shoe" from their Classic Line, it's a slim-profile shoe of polished patent leather made with Italian calfskin. They run $289, and are available online (www.suitsupply.com) or at their SoHo store at 453 Broome Street, between Greene and Mercer Streets.
The Ultimate Accessory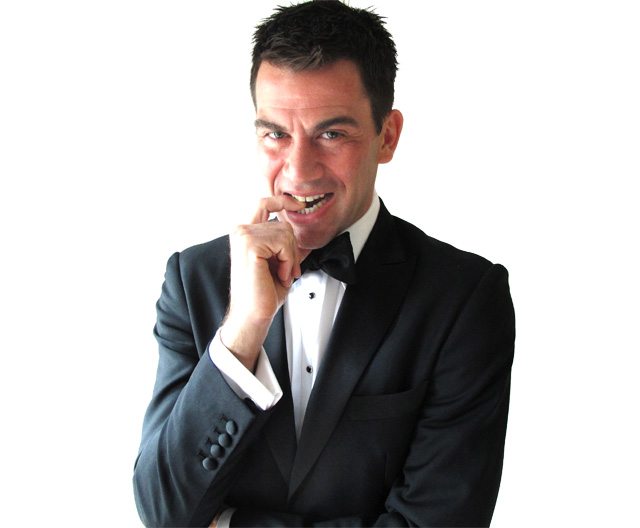 As of this writing, I have no plans on Sunday, June 9th. But I'm game. We would tweet, take Instagram photos, discuss whose face work is holding up and giggle like school kids. It would be a blast. Think about it.
In Conclusion…
This is the Tony Awards, celebrating the highest honor in American theater. It's an occasion for which one shows up with respect: respect for oneself, respect for the theater, respect for the artists, respect for the tradition, respect for the honor and respect for the fact that there will be cameras. Dress for it.
The good news is that it doesn't take thousands of dollars or a stylist to pull it off…
The Cost Review…
The Tuxedo: $379
The Shirt: $99
The Bow Tie & Cummerbund: $75
The Bling: $49 (formal set) + $75 (watch)
The Shoes: $289
TOTAL COST: $966
TOTAL COST with me as your date: Priceless.