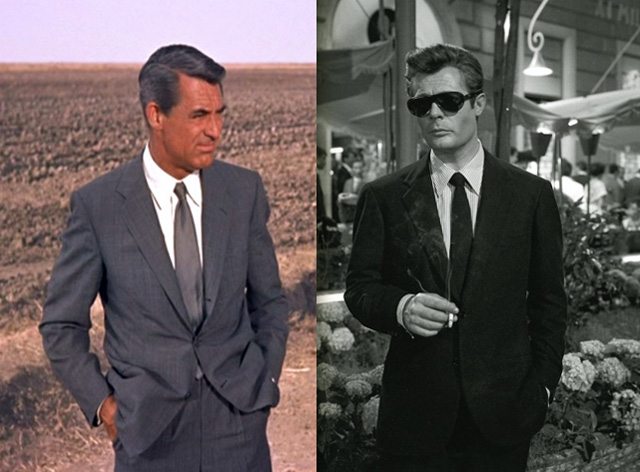 Skinny, short suits are all the rage right now. Or was that last year? Lapels are wider again. Or was that in the '70s? It's all about three-button jackets again. Or is it two? I can't remember. Oh, and did you hear pleated trousers are in again? If for no other reason than to counteract boredom or to exercise otherness from flat-front pants.
Confused by all the variations of suits that are being thrown at you? I don't blame you. Much like all jeans are essentially variations of Levi's 501s, modern suits are nothing more than sartorial dialects of the timeless, trend-proof suit that surfaced in the late '50s/early '60s.
The movies offer a great point of reference. Cary Grant's gray Kilgour suit in North by Northwest (1959) and Marcello Mastroianni's suits in La Dolce Vita (1960) are great examples of the emergence of the modern suit as we know it today.
The jacket of a trend-proof classic is either a two button or a three with a roll like a two-button. The lapel is notched with a maximum width of about 2 1/2 to 3 inches. For the length, the jacket should reach the thumb knuckle with arms relaxed. As for the vent in the back, a single or double.
Then there's fit and tailoring of the jacket. Most American men go too large on the jacket. In terms of off-the-rack, I thought I was a 40R for years when I was really closer to a 38. The jacket should be nice and snug in the shoulders, with the jacket's minimally-padded shoulder going not much wider than your actual shoulder. All jackets off the rack require tailoring, particularly in the midsection. Get it taken in. A well-tailored jacket should comfortably hug your form, as if it were made especially for you.
For the trousers, stick with flat-front (no pleats). Though the trousers of Cary Grant's NxNW Kilgour suit are pleated and cut high on the waist, he was still under the influence of the decade prior. By the time the '60s rolled around, suit trousers on the modern go-getter had evolved to a lower rise and a more flattering flat-front, while pleats had become an old-timey "throwback" feature. Observe the deliberately and carefully costumed Don Draper (flat-front) and Roger Sterling (pleated) on Mad Men, symbols of young and old. As for cuffs? Your choice (though I personally prefer no cuffs).
The fit of the trousers should also hug the form while preserving comfort. If the waist fits correctly, you shouldn't require a belt. In fact, many well-tailored gents opt for trousers without belt loops, often including side tab adjusters instead. As for the depth of the crotch, called the "rise," you don't necessarily want ball huggers that reveal your religion, but you also want to avoid too much fabric in the rise. Let the crotch seam be about an inch below your junk. And the overall length of your trousers should dole out a gentle quarter or half break over the shoe.
There is a handful of touches one can add to a timeless suit for subtle flare, like pick stitching, pocket flaps, ticket pockets and functional sleeve buttons, which can be particularly handy when you're wearing the jacket with jeans in a casual situation by leaving a button unfastened and rolling up the cuff a tad. As for color, start with the basic solids: navy, charcoal, gray and black. From there, you can branch out with pinstripes, khaki, seersucker, glorious plaids and tweeds and even white for the summer. But for a suit that will always work, the basic principles of shoulder fit, lapel width, number of buttons and tailoring apply to the timeless, trend-proof suit.
Over the decades we've seen it widen here and lengthen there, then shrink up and shorten, then relax or widen again, as designers try to put their stamp on a futile re-working of the men's suit. If the basic, bullet-proof principles of the design of the timeless men's suit ever change, it won't happen during the lifetime of anyone reading this.
If you want to get caught up in the expensive first communion flood suits Thom Browne keeps pushing, or dive into the skinny craze, or get unnecessarily wrapped up in the aggressively so-very-right-nowness of it all, knock yourself out. You will have invested in a time-stamped aesthetic that will look dated or even silly in years to come, like the wide shoulder-padded power suits of the '80s and '90s.
But if you're interested in an arsenal of solid suits that will look good now, in five years, in ten years and even in twenty years, don't fuck with the timeless, trend-proof suit. It will never let you down.