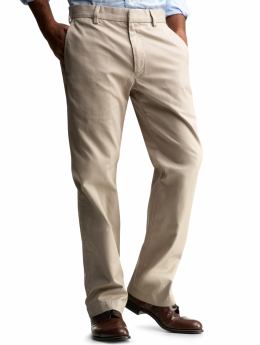 Chinos are trousers made of chino cloth with origins in the British military in India from the mid to late nineteenth century. A staple of casual wear for decades, they are a man's wardrobe essential.
Wearable with dress shirts or t-shirts, with or without a jacket, with brogues or Converse All-Stars, chinos are perhaps the most versatile casual trousers a man can wear. The preferred classic pair of chinos is made with 100% cotton (or some percentage of linen for a summer weight) with a flat front and a proper fit, i.e. not too baggy, but not too fitted or "skinny" either. While the most versatile color for chinos is khaki, they've also spun off with other colors like olive, gray, navy, pink and many more.
And like all clothes, they should be devoid of any outside designer label or brand identification on them, unless, of course, you got them for free or are being paid to wear them.