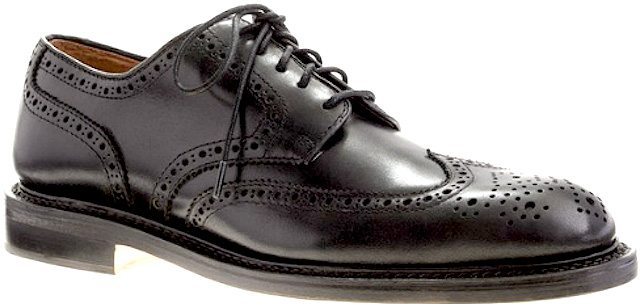 Anyone who knows me knows I'm a freak for wing tips. If I had my druthers, I'd collect a bunch of them from the best shoemakers like Grenson, Church's, Allen Edmonds and Alden. Unfortunately, if you're pinched for scratch in these tight times, a pair from these premium makers will run you a half a grand and up. Enter the Preston Wingtip from J.Crew.
Preston Wingtips have all the features you'd appreciate in a pair of oxfords from the other guys. They're made with a traditional brogue style upper with a slimmer toe for a more modern silhouette, reinforced shoelace eyelets and a Goodyear welt, which means the sole is sewn on, rather than cemented. They also have a calfskin leather lining and a leather sole with a rubber heel insert. This solid English construction makes for a fantastic shoe that just gets better with wear.
My favorite part? They're only $225 (as of this writing) and available in black or brown.