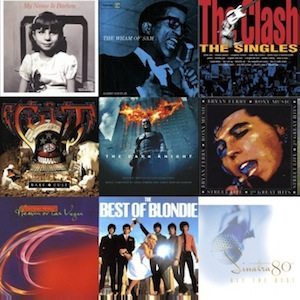 The second volume of selection of songs from various artists and genres that I simply can't live without. Volume 2 features music from Barbra Streisand, Blondie, Bryan Ferry & Roxy Music, The Clash, The Cult, Cocteau Twins, Sammy Davis, Jr., Frank Sinatra, Pink Floyd and film score composer Hans Zimmer.
My favorite of this second volume is the Pink Floyd track. "Money" is such a tough call, because you really can't pick one song from Dark Side of The Moon. I'll never forget the first time I heard it. My sister Tracy had the vinyl album in the 70s. When CDs came out in the 1980s, it was the first compact disc I bought. In a sense, you could say that the entire album is a giant glorious song, and easily one of my favorite records ever recorded.
Enjoy Volume 2.
The tracks…
Where's That Rainbow? | Barbra Streisand
One Way or Another | Blondie
Let's Stick Together | Bryan Ferry & Roxy Music
The Magnificent Seven | The Clash
She Sells Sanctuary | The Cult
Pitch The Baby | Cocteau Twins
Why So Serious? | Hans Zimmer
Money | Pink Floyd
That's Life | Frank Sinatra
A Lot of Livin' To Do | Sammy Davis, Jr.
Hear samples and purchase Volume 2
Previous Volumes:
10 Songs I Can't Live Without, Vol. 1